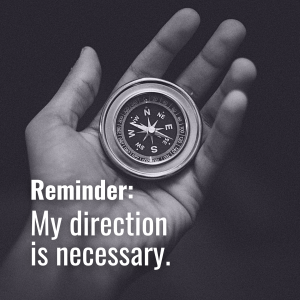 Reminder:
My direction is necessary.
Encouragement:
The way of the world is often difficult
and convoluted. Although the conclusion I'm leading you
toward appears complicated it always ends in a peaceful
and perfect place of simplicity. I can allow you to achieve
your desired goal without complex procedures. The best
way to show your complete trust in Me is to get involved
in the process of selfless obedience. Be realistic enough to
recognize that My instruction is mandatory if you hope to
discover and live in a positive place.
Guidance:
O Eternal One, I know our lives are in Your
hands. It is not in us to direct our own steps—we need You.
– Jeremiah 10:23 (VOICE)
IMPORTANT: SCROLL DOWN TO LEAVE A COMMENT.